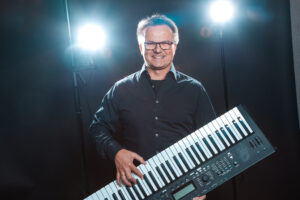 Die Power House Band
Rock ist kraftvoll, Rock ist hart, Rock geht direkt auf die Zwölf. Keine Kompromisse.
One, Two, Three, Four und los. Wir sind die Power. Wir proben direkt neben einem riesigen Kraftwerk. Über uns steigen gigantische Dampfwolken in die rheinische Luft, aber das, was wir in die Atmosphäre entlassen, hat tausendmal mehr Kraft als all der Kohlestrom von nebenan.
Wir sind sechs gestandene Musiker in den besten Jahren. Wir haben mehr Vergangenheit als Zukunft.
Wir wissen genau deshalb, wo musikalisch der Hammer hängt. In unseren Ohren spiegeln die großen Glocken den Tinnitus der goldenen Rockjahre, der Sechziger und der Siebziger. Aber es darf durchaus auch mal Talent aus dem neuen Jahrtausend aufscheinen. Wir sind Born To Be Wild, lassen gerne mal den Jumping Jack Flash im Sweet Home Alabama raushängen, und wenn wir zusammenkommen, sagen wir "Hey Joe" und stellen die ultimative Frage ans jubelnde Publikum: Are You Gonna Go My Way?
Zwei Gitarren, die früher als Kreissägen in einer Schreinerei montiert waren, ein Bass, der einst zur Einrichtung der Richter-Skala wummerte und Drums, die auf alle Felle wissen, was der Beat schlägt und ein Keyboard mit Hochgeschwindigkeitstasten die den Samba im Rock & Roll zur Ekstase bringt.
Wir heißen Markus, Dominik, Wolfgang, Rainer, Stefan und Dieter und sind aber trotzdem durchweg nette Leute. Außer wenn wir rocken. Dann soll mal einer kommen und sich uns in den Weg stellen. Den pusten wir weg. Mit der Kraft unserer Songs, mit unserer Power rocken wir jedes Haus. Wir sind die Band!
Die Power House Band